Words and photographs by Zoya Shu
Krasnopilske is a different cemetery. Its wooden crosses bear no names, no photos, no dates. Families do not come to lay flowers. The inscriptions on the crosses read: "Temporarily unidentified defender of Ukraine."
Spreading just outside the city of Dnipro, in eastern Ukraine, Krasnopilske is the burial ground for those who died in Donbas since 2014, but whose identities remain unknown.
In 2019, Yadviga Lozinska stood for hours as one of the bodies was exhumed. She was told it was of her son Andriy's. She did not believe them: to many details, including the timeline, just did not work.
"I told them that witnesses saw him [later]," she says. "The corpse was brought on August 30 [2014], it could not be my son, because he called me on September 5 and until November 2014 there were boys with him, they were released, but he was left in captivity."
There are thousands of mothers like Yadviga, who have been clinging on hope to find their beloved for years. Since the war broke out in Ukraine's eastern regions of Donetsk and Luhansk, thousands remain unaccounted for as a result of fighting, reprisals and abductions. There are no exact numbers and families said that investigations and identifications have been slow and approximate.
In 2018 Ukraine adopted legislation to ease the search for soldiers and civilians who disappeared during the conflict in the east of the country, but bureaucracy hindered the work of the missing persons commission.
Russia's full-scale invasion has added further thousands to the list of those missing from the Donbas war: in July 2022, Oleh Kotenko, Ukraine's commissioner for missing persons said that as many as 7,200 service personnel were missing since February 24. There is no exact number of civilians whose fate is unknown.
Families continue to believe that their beloved are alive: kept in captivity, lost due to memory, or not in a position to contact them. Relatives are part of a tight knit community, which tries to comfort each other and where everyone is an investigator.
Once alone, within the four walls of their homes, objects of a distance, happy past give them comfort. Boxing gloves, a sport medal, a seagull's feather.
Inna Dumchyk, Lozivatka, (Kriviy Rig region)
Yaroslav Dumchyk went missing near Ilovaisk, in Donetsk region, during the 26 days of fighting between Ukrainian forces and Russian-supported and armed militias. The city fell into the pro-Moscow forces on September 2, 2014. Yaroslav's mother, Inna, says that he called her in December of the same year. 
"He said that his name was up for a prisoners' swap. The call was from Sverdlovsk, in Lugansk region, near the border with Russia. The Russians brought them there."
There was no swap and Inna was told she could receive the body of her son.
"The DNA test stated that the body was of a man of 30-40 years old. My child was 19 years old at the time and he was 10 centimetres shorter than the body we were given."
Inna is hoping that she would meet her son one day. His favourite pillow, with the word "Love" is one of the woman's most treasured possession.
Liliana Kolesova, Pokrovsk (Donetsk region)
Liliana last saw her son as a teenager. Today, Yevhen would be 25. In July 2014, 17-year-old Yevhen got into a car with three acquaintances in his native Pokrovsk, a city of about 60,000 people in Donetsk region. None of the four young men have returned or has been found thus far. 

He loved sport. "Wrestling was his passion," she says.
In Pokrovsk, Liliana founded "Edelweiss", an association uniting families of missing persons. She is determined to find her son's whereabouts. As Russians troops escalated their attack in eastern Ukraine, Pokrovsk residents were asked to evacuate. She refused.
"I am not going anywhere without my son."
Maryna Tsyba, Pavlograd (Dnipropetrovsk region) 
Serhiy Shevchenko's medals still hang in his room. He was a good volleyball player but admired the army and after graduating from school he signed up and enlisted. 

He was a driver-mechanic and a gunner. He was in the military column, which left Ilovaisk at the end of August 2014, when the Ukrainian army retreated. He was most likely captured when a tank was being repaired near Katerynivka.
"On August 29, I received the last call, he managed to say: "Ma, hello…" It was around 12.20, we had just sat down to have lunch. There is a video where the and his comrades are taken prisoners [by pro-Russian separatists in Donetsk]. You can see KamAZs tracks, and  our son's is in the first row.
"Serhiy is a very open young man, has many friends who they are also waiting for my boy to return home."
Galina Pugachova, Kharkiv
The first time Pavlo went to the seaside he returned with a gift for his mother Galina: a seagull's feather. He was 11.

Her only son, Pavlo was Galina's essential support when she underwent cancer treatment.
"I was diagnosed with cancer in 2013. Two operations, the chemotherapy, it all fell on his young shoulder. He would come home after his night shifts, cook and then come to the hospital, sleep and then back to the work.
One day, it was January 2014, as he was leaving the hospital after visiting Galina, he was he was beaten by police officers. Euromaidan rallies were happening in Kharkiv. After being held with no reason at the station, he joined the protests.
Then one day he came home and told Galina that he was going to the "Donbas" battalion.
Pugachev Pavlo Anatoliyovych, born in 1992, joined the "Donbas" battalion in 2014; military unit No. 3027, call sign "Dudaev". In early July 2014, he left for the frontline.
"He took part in the liberation of Artemivsk, Lysychansk, Popasnaya… Then there was Ilovaisk. They got surrounded and they were hit with GRAD rockets day and night.
On August 28 or 29, I saw the TV saying "Ilovaisk is surrounded", it felt like an electric shock. I waited for a call, and it came. Two minutes we talked, it was like a dream. He was alive.
"'Mummy, I love you. I love you very much". And that's all. Hangs up. I redial: "What happened? I asked. 'Nothing,' he said 'I just want you to know that I love you and my friends will take care of you."
"How can I survive all this? He said that they had to surrender before six in the morning. I begged him to move or even surrender, life is the most precious thing in the world. He replied 'Mom, I'm not going anywhere, there are wounded here, I won't abandon them… And I won't surrender, I'd rather blow myself up."
Two minutes. When I called the following morning it was just 'your subscriber is unavailable'. I didn't want anything anymore, just to hear my son's voice, to hug him. and never let him go anywhere. On September 1, the phone rang again. They told me that Pasha was alive! He had got lost, broke away from the group and was helped by local residents. On September 3, he was ordered to leave the encirclement himself and go towards Mariupol through Komsomolsk. Then no news. I'm waiting for him…"
Galina remained in Kharkiv, she stayed despite the Russian shelling of 2022. She is not going anywhere without her son, she says. She still keeps the seagull feather.
Yadviga Lozinska, Dnipro
Yadviga has not touched Andriy's closet; his son's belongings are still there.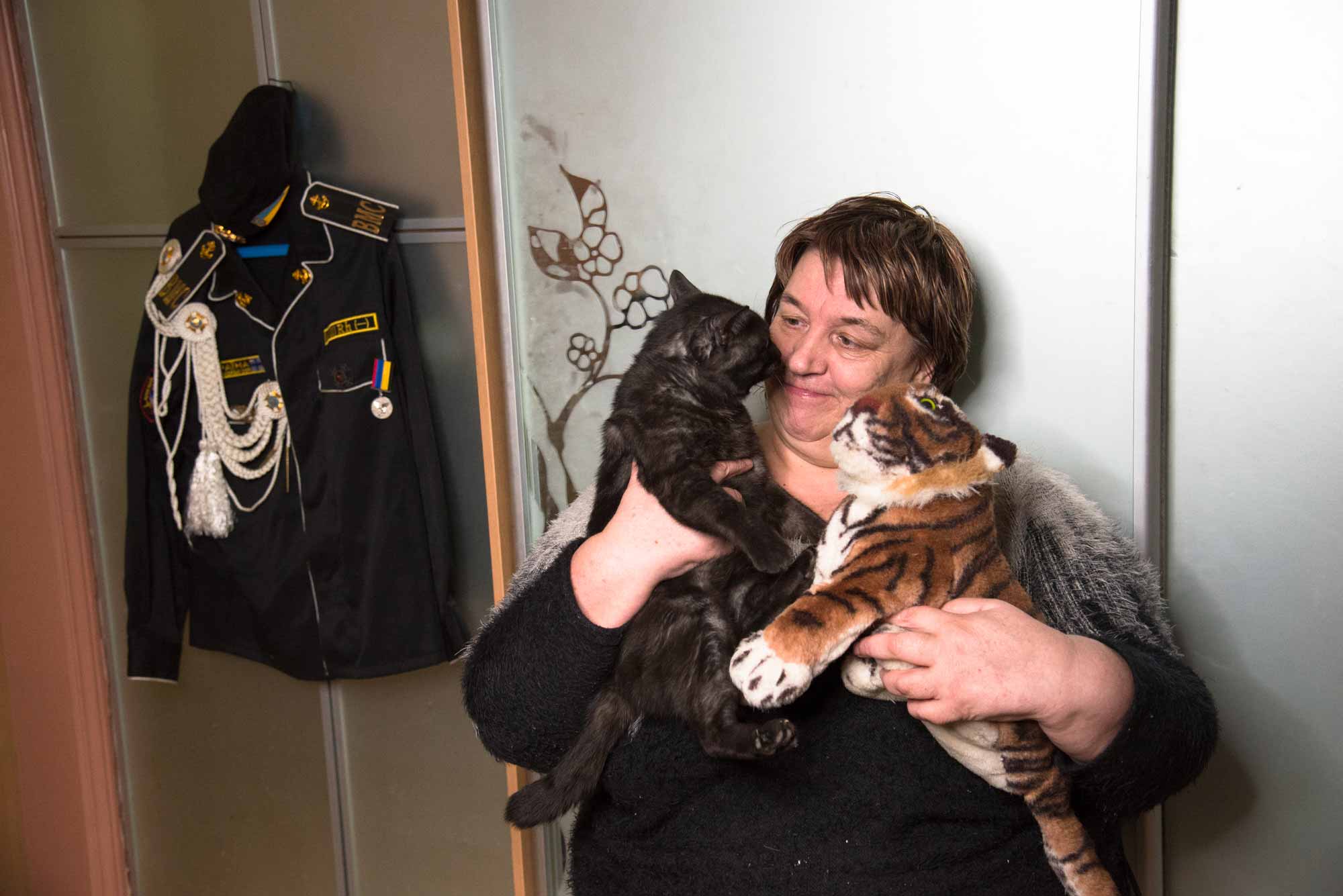 After he had gone missing near Ilovaisk in August 2014, she travelled to the occupied territory with a local friend and started asking around.
"Ilovaisk, Mnogopillya, Novokaterinivka, Chervonosilske, Starobeshevo, I went everywhere. The commander in Starobeshevo said that he had been taken with others to Donetsk. People who met him in captivity said he was on the list for a prisoners' swap. But it did not happen."
In 2019, Yadviga went through a four-hour exhumation procedure at Krasnopilske. It was excruciating. She was told that one of the bodies was Andrii's; his DNA matched hers, but she was then asked to provide another sample. The whole process was rough, she felt no one knew what they were doing. The body was not Andriy's, she is sure about it, because the timeline she was given did not match her son's last call.
Yadviga has not given up. She founded the Association of Missing Relatives "Nadiya" (meaning Hope), which brings together families like hers.
Larisa Martyrosova, Pokrovsk (Donetsk region)
"My son Spartak lived with a girl. He left to get groceries by car on August 20, 2014. At night, they called his girlfriend and asked if Spartak Martyrosov was her husband. They said that he was in Makiivka in a basement, kept by Zakriev Mansur, a Chechen militiaman."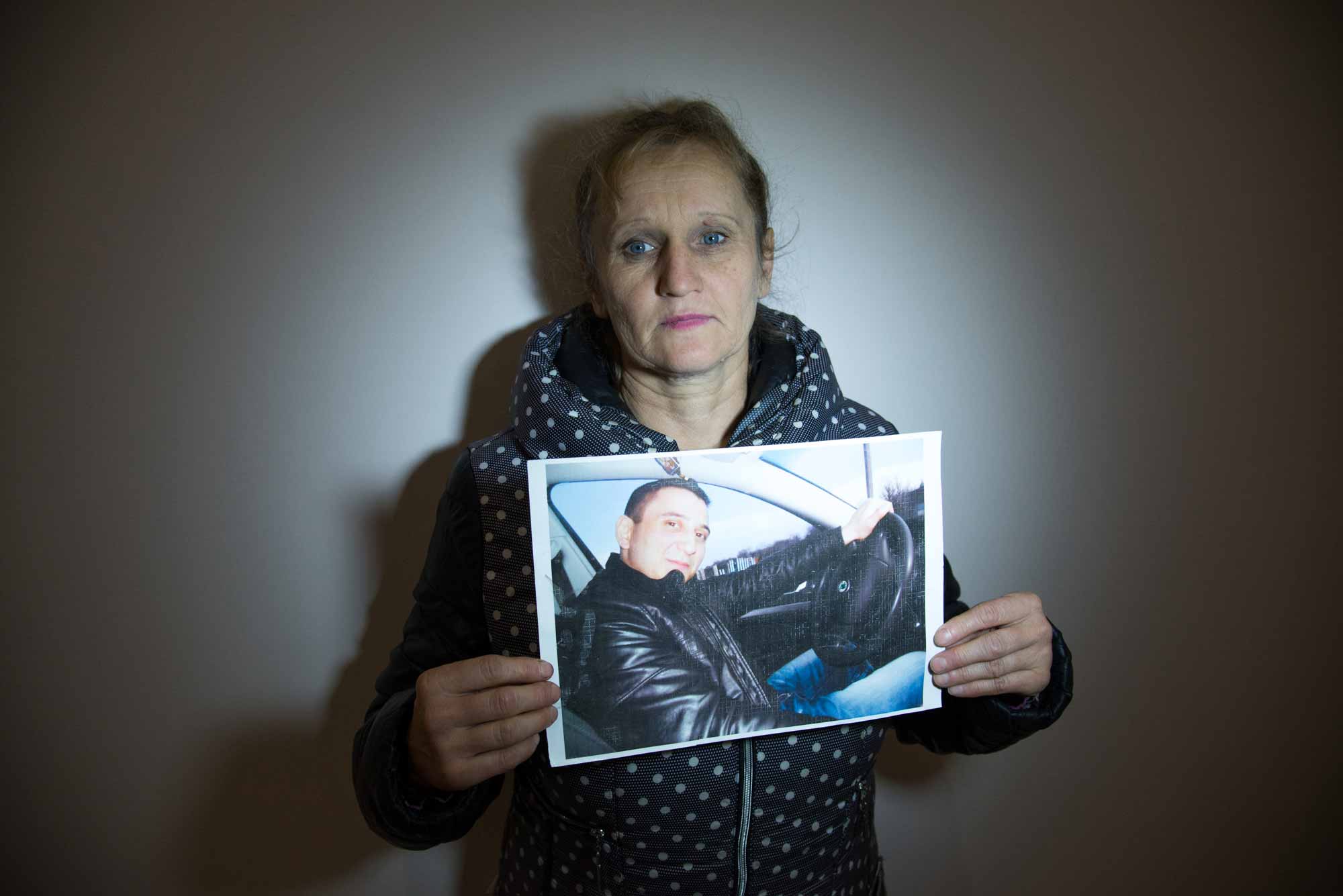 "I went there, searched for a long time for the basements, in the military prosecutor's office and the prosecutor's office, looked everywhere, but he was not there. They said that this Chechen left and took people with him. What he did with people is unknown. I found the unit where he was, there they said that my son was taken to Russia. I went [to the occupied territory] from August to December 2014, as long as it was possible to go, I went, but I didn't find him."
"We still do not know where he is and what he is. No news."
Victoria Yaremchuk, Kropivnitsky (Kirovhrad region)
Oleksandr Yaremchuk went missing on Ukraine's independence day, on August 24, 2014. The history and law teacher-turned-soldier was evacuating the wounded from Savur-Mohyla, in Donetsk region, close to the Russian border.

He joined the army in 2010. "My son liked the service." When time came to extend his contract, Victoria she was against it, she felt he should not do it. Oleksandr promised her that everything would be fine.
Examination showed that Victoria's DNA coincides with the DNA of two bodies. She had only one son fighting. In November 2014, a distant relative of hers helped Vitoria reach the village of Petrivske, where the battle his son vanished in took place. But her searched led to nothing. And she is still waiting.
Kateryna Khomyak, Lutsk
Kateryna Khomyak's two sons, Dmytro and Volodymyr, served in the Aydar Battalion. They went missing after the battalion was ambushed south of Shchastia on September 5, 2014. 

Kateryna did not accept bodies matching her sons' DNA in two instances.
"Each mother conducts her own investigation," she said. She does not believe they are dead.
In 2021, Kateryna met a soldier who was a comrade of Dmytro and Volodymyr and was among those who had to collect the bodies after the battalion was attacked. Kateryna had been communicating with him via phone for seven years before the two met.
Tetiana Dobrovolska, Kropivnitsky (Kirovhrad region)
"Serhiy is alive somewhere, a witness saw him in 2016 in a basement in the Donetsk region, and then he was seen in a prison in Makiivka," Tetiana Dobrovolska believes.  

Serhiy Dobrovolsky vanished in August 2014, when he was last seen in a vehicle heading to Novoivanivka, in Luhansk regin. On August 24, he called Tetiana from someone else's number, saying he was in captivity.
"They gave me "his" body three times. Each time I was told that the DNA matched mine.  I said that I wanted to see the body first, they showed them to me at the morgue: the first had red hair, the second was without a head, and the third had much smaller legs. When I asked why the legs were so small, I was told that had 'dried up'.
All three bodies were on the same number, the same tag. If he had been there, the body would have been given to me immediately."
In her desperate search, Tetiana also boarded a bus with a body part in a bag and took it to Zaporizhzhia to speed up the DNA identification.
"It felt like a hip bone," she recalls. Once at the laboratory she was told that the DNA sample had to be taken from under the nails.
"I know he's out there somewhere."
Svitlana Anikina, Pavlograd (Dnipropetrovsk region)
Maksym Anikin was 24 when he vanished in Ilovaisk. He was a crew member of a BMP-2 tank in the 93rd separate mechanized brigade.

"Maxym liked technology, speed. He was a biker before the war arrived. In 2014, he went to serve under a contract. Witnesses said that as their convoy came under fire, they jumped off the tank and ran to the bushes. Through volunteer channels, I was told that he seriously injured and was in Makiivka. The Red Cross also told me that he was "being held by illegal armed groups." The Ministry of Defence said that he was being prepared for the prisoners' swap. There was no swap. Then they offered me the body, said that the DNA matched, but I am sure it was not my son…".
Zoya Shu is an award-winning documentary photographer, based in Ukraine.